Hello!
a bit about us
We are passionate about tree work! While money supports us, trees drive us! We are a crew that works hard & does not give up! We are committed to continuing education and following industry standards! Be careful of "Tree Surgeons" who want to "Prune" your tree. Call a professional who knows the cause and effects of pruning. Safety is the most important thing and our priority every single day!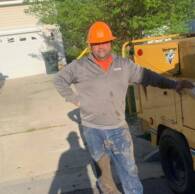 Please call an ISA Certified Arborist, we have worked very hard for our certifications and have given a full commitment to the Arboriculture industry.
It all started in 2006 when Chris was in college that he was given some lawn mowing equipment and also 5 properties to mow and maintain. As time went on Chris invested a lot of money back into equipment, education, and marketing. Chris developed his core values of which customer service and correct industry knowledge would always
succeed. When he thought of the name for the company he wanted something that stood apart from the others and on the pinnacle or of being at the top. Immediately Paramount came to his mind.
Chris is an alumnus of the Colonial Williamsburg Fife and Drum Corps. He attributes a lot of his success and business values to this wonderful and prestigious program. Chris went on to Thomas Nelson Community College where he attained two Associate degrees in Business Administration and Social Science. Chris' specialties are Arboriculture, Turf Grass, and Drainage Solutions. Chris has numerous industry certifications, with the ISA Certified Arborist beng one of his top certifications. Also recently acquired was Tree Risk Assessment Qualification (TRAQ) by International Society of Arboriculture (ISA).
Chris was born and raised in Williamsburg and knows the area very well, from the right plants/trees to the type of plants and trees. He currently resides here with his family and 4 kids. On his days off he enjoys spending time with family on the boat or on the golf course or walking through a pretty botanical garden.
The staff Chris surrounds himself around are very motivated individuals. They strive to complete the job every day. They are very hard workers and are very humble that they can work outside and have fun every day. Our staff is made up of highly skilled individuals in the arboriculture industry and they constantly train every week to practice safe techniques. If you choose us we are committed from start to finish and never give up.
Some of Chris Phelps' professional certifications:
ISA Certified Arborist
ISA Tree Risk Assessment Qualified
Virginia Department of Agriculture Certified pesticide applicator
Virginia Department of Water Quality Certified Land Disturber
Associate Degree from Thomas Nelson Community College Social Science
Associate Degree from Thomas Nelson Community College Business Administration
What Our Customers Say
testimonials
Chris is a highly knowledgeable (and ISA certified!) arborist, not just "a tree guy." He explains all his recommendations thoroughly, and won't try to upsell you. Very professional and speedy. We trust him with precious trees.

Chris and his crew cleared three particularly difficult trees for me yesterday and the area of my yard has never looked so good. Chris is very knowledgeable about trees, their needs, their communication, and their health. The crew is efficient and respectful. Other than a bit of sawdust where it does not matter, one would never know that they were here yesterday. I am sure that the remaining trees in the area will thrive now. In addition, Chris is very cognizant of the right time of the year to trim or remove additional issues. Paramount is an efficient, cost-effective, and diligent service. I highly recommend their work.

Chris did an amazing job for us. He and his team had our trees cut down and everything cleaned up in record time. Awesome!

What We Offer
proposal
Send us a message
Need a quote on tree evaluations? Have you made up your mind about removing one or more? We can help with proper tree pruning, cabling and bracing, crane services, emergency services, stump grinding, debris removal and even specialized tree planting!